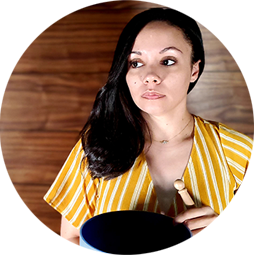 Nicole Cooper
"The True and Only Healer is Within You"
Nicole moved to Arizona in 2015 to be with her husband (then boyfriend) and her two lovable dogs. It is here in the sunshine cactus filled state that she not only fell in love with her husband and fur babies but also discovered her love for Reiki, Sound Therapy, and Yoga.
Nicole was diagnosed with breast cancer after 3 months of living in Arizona in her mid 20s.  She underwent reconstruction surgery and ended up getting a very serious infection in her chest and had to have an emergency procedure done. Shortly after she had a total of 5 reconstruction procedures .  After being at home recovering from her surgeries, and spending months in and out of the hospital.  She started to notice the emotional and physical toll of everything she went through.  Nicole knew that she had to find something to help her heal body, mind and soul.
She started her journey of healing by finding a yoga studio close to her.  She contacted the studio owner to learn more about their offerings and shared her journey of Breast Cancer.  The studio owner asked her if she'd ever been to a sound bath and thought it would be beneficial for Nicole during her healing journey.  Nicole had no idea what a sound bath was but decided to be open minded and try something new.  Later that evening she attended a group sound bath session and let's just say it was love at first vibration!  As she was enjoying the blissful sounds and vibrations of the instruments, she realized she held resentment and wasn't accepting towards the transformation she went through with her breast cancer. As soon as she opened herself up to acceptance, she felt the emotional baggage and physical pain she was carrying being lifted.  She continued signing up for multiple sound bath sessions.  After each sound session she felt more at peace and continued to make progress on her healing journey.
Nicole also had a challenging time accepting and loving how her body looked physically after her breast cancer procedures.  She started actively taking yoga classes as well as sound bath sessions to help heal and uplift her views towards her body.  Yoga made her appreciate and see that her body is so much more beautiful and powerful then just physical appearance.
Nicole was truly grateful to heal from her Breast Cancer Journey mentally, physically, and emotionally with sound and yoga.
A few years after her Breast Cancer Journey she started noticing a different area of her life that was seeking healing.  She was a dental assistant and treatment coordinator for many years and loved the people she worked with as well as caring for the patients, but she felt unfulfilled by what she was doing in her profession.  Nicole wasn't sure why she felt this way and decided to do some research to see if there was something else, she could include to her yoga and sound experiences.  Through her research she discovered reiki and soon after scheduled to have a session with a reiki practitioner.  Her first reiki session was incredible.  The session showed that she felt unfulfilled in her current job because she was meant to be doing something else.  She quit her job shortly after and gave herself time to figure out what career path was meant for her.  Her soul knew it was to be involved in the wellness community.  Her first step on this path of wellness was becoming a yoga teacher.
She signed up for yoga teacher training and became a certified yoga teacher through Spirit of Yoga (SOY), and taught at multiple studios across the valley.  She was attracted to using crystal bowls and other sound therapy instruments while teaching yoga classes, and private sessions. So, she decided to further her training in sound therapy through Spirit of Yoga (SOY). She also knew that we connect to peace, relaxation, and healing on a deeper level than just physically, emotionally and mentally. She knew that healing also happens on an energetic level from taking personal reiki sessions. Her next step was being trained and certified as an Usui Reiki Master through Soul to Soul.
After all of Nicoles training, teaching across the valley, and seeing people privately she wanted to create a home base and community for everyone to come and just bee.  Her whole journey has led her to opening Bee Humble Wellness. She now has the fulfilling pleasure of working with people privately meeting them at their level of healing whether it be reiki, sound, and/or yoga. She also enjoys hosting workshops and events creating a peaceful experience with sound bath, yoga, reiki, and other wonderful offerings creating a blissful community experience.
Her intention is to hold space and create a calming, relaxing, and healing experience for all of her humble clients.  She feels blessed to have received the healing gifts of reiki, sound healing, and yoga. It is her intention to share these beautiful gifts with her humble community.  She hopes that these gifts provide the same healing experience that she has received on her own personal journey.
Bee Humble Wellness is here for you to connect to the humble space within.  Inviting you to connect to your internal healer to make the energetic and internal shift you are seeking.  No matter how heavy life can bee the humble light is always within you.